Mt Titlis: Skier's Paradise
Permanent ice and snow at the top of the world and a revolving gondola lift to take you to the top of the mountain, chairlifts over deep crevasses and exploring a glacier cave... If any of these sound amazing - and they do - Mount Titlis is the place for you. There are also restaurants and breathtaking views for those of us who prefer to be amazed in comfort while sitting on top of the world at 10,600 ft (3,238m).
Titlis is Central Switzerland's highest mountain and the views are amazing. However, be prepared: it is a bit like a high altitude theme park. The ice cave has music and flashing neon lights and you can pose for a photo with a giant Toblerone. Still, the surrounding peaks like shark fins, the glacier and the sweeping views to pastures, cliffs and waterfalls should make you forget any crass commercialism.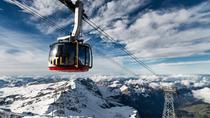 Opplev fantastiske snødekte fjellandskap på denne dagsturen fra Zürich til Titlis-fjellet. Først får du se de viktigste severdighetene ... Mer informasjon
Sted: Zürich, Sveits
Varighet: 9 timer 30 minutter
Språk:

Engelsk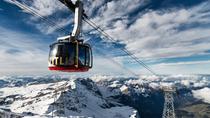 Dra til toppen av fjellet Titlis på en ettermiddagstur fra Lucerne. Her venter fantastisk utsikt over et snødekt fjellandskap og en lang rekke ... Mer informasjon
Sted: Luzern, Sveits
Varighet: 5 timer 30 minutter
Språk:

Engelsk