Church of Our Lady (Fraumünster)
The 13th-century Church of our Lady, or Fraumünster, has an elegant blue spire which soars above the Zurich skyline. Situated right next to the lake, it is one of Zurich's key sights. Founded in 853 as a Benedictine convent, around the 11th century it was responsible for minting coins and collecting tolls making the then Abbess a powerful women indeed.
Inside the church are the famous stained-glass windows of 1967 by the famous artist Marc Chagall. The three main windows are: the blue Jacob window, with a ladder to heaven, the green Christ window, featuring Mary, Joseph and baby Jesus, and the yellow Zion window depicting King David and Bathsheba being trumpeted into New Jerusalem. To the sides there are windows depicting the Prophets and Moses. Near the main exit is a window by another famous artist, Giacometti.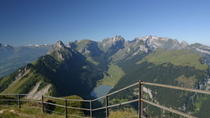 Denne guidede heldagsturen med buss tar deg med fra Zürich til Heidis berømte region i det østlige Sveits. I løpet av den begivenhetsrike ... Mer informasjon
Sted: Zürich, Sveits
Varighet: 9 timer
Språk:

Engelsk
Se alle turer og billetter i Church of Our Lady (Fraumünster)