The somber, sobering Holocaust Museum is unlike any other museum in Washington D.C. In remembering the millions murdered by the Nazis, it is brutal, direct and impassioned. Its exhibits leave many visitors in tears and few unmoved.
The Holocaust Museum uses its collection of more than 12,500 artifacts to reveal the Jewish experience in three parts: Nazi Assault, Final Solution, and Last Chapter. Visitors are given the identity card of a single Holocaust victim, narrowing the scope of suffering to the individual level while paying thorough, overarching tribute to its powerful subject.
Apart from the permanent exhibits, the candlelit Hall of Remembrance is a sanctuary for quiet reflection; the Wexner Learning Center offers text archives, photographs, films and oral testimony available on touch-screen computers. If you have young children in tow (the museum recommends not bringing children 11 and under).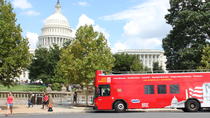 Opplev det beste av Washington DC i ditt eget tempo med denne 48-timers hopp-på-hopp-av-billetten og adgang til opptil fem attraksjonene i byen. Her kan ... Mer informasjon
Sted: Washington D.C., District of Columbia
Varighet: Varierer
Språk:

Engelsk