One of the most iconic and impressive structures in Washington D.C., the Library of Congress contains a staggering 120 million items, including 22 million books plus manuscripts, maps, photographs, films and prints. But don't expect to see many books: Most are shelved on more than 500 miles of closed library stacks housed in the three different buildings. The Library - the world's largest - is still nonetheless fascinating.
The centerpiece of the LOC experience is the historic 1897 Jefferson Building, where you can wander around the spectacular Great Hall, ornate with stained glass and marble. The artwork of the Great Hall reflects the beauty that emerges from such amassed wisdom, such as the goddesses and cherubs who represent different fields of knowledge. Multimedia kiosk provide the minutest details of the library's awe-inspiring collection.
Anyone over the age of 18 carrying photo ID can use the library, and more than a million people do so each year.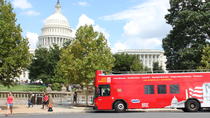 Opplev det beste av Washington DC i ditt eget tempo med denne 48-timers hopp-på-hopp-av-billetten og adgang til opptil fem attraksjonene i byen. Her kan ... Mer informasjon
Sted: Washington D.C., District of Columbia
Varighet: Varierer
Språk:

Engelsk