Siena Cathedral (Il Duomo)
Siena's magnificent Tuscan Gothic cathedral is not to be missed. And if you're in Siena you can't miss it because it dominates the place. Rising high with its magnificent white and greenish black stripes, it has a bit of red thrown in on the front facade and lots of detailing - including scrolls, biblical scenes and gargoyles. In the centre is the huge rose window designed by Duccio di Buoninsegna in 1288. Statues of prophets and philosophers by Giovanni Pisano which used to adorn the facade are now housed indoors at the nearby Museo Dell'Opera.
Inside the place is equally impressive with art by Donatello, Bernini and early Michelangelo. Some of the best pieces such as Duccio di Buoninsegni's Maesta have been moved next door to the Museo Dell'Opera. Unlike other cathedrals where you are craning your neck to see magnificent ceilings and frescoes, here you need to look down at the mosaic floor. The whole floor is tiled and is one of the most impressive in Italy.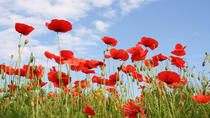 Toscana, som er kjent for kunst, historie, vakkert landskap og fremragende råvarer, har det beste fra alle verdener! Hvis du bare har én dag til ... Mer informasjon
Sted: Firenze, Italia
Varighet: 12 timer
Språk:

Engelsk