A lush Atlantic rainforest, Tijuca National Park is an absolute wonder it is the world's largest urban forest which covers 12.4mi² (32km²) and was a result of incredible forward thinking by Emperor Dom Pedro II.
In 1861 he saw the deforestation of the land around Rio and ordered that Tijuca be replanted to secure the water supply for future citizens. It was replanted over ten years ago and still plays a key role in making sure Rio has fresh water.
The national park includes the Corcodova which offers stunning views from its summit where the iconic statue of Christ the Redeemer is situated. It also offers fantastic picnic areas, many waterfalls and some great walks.
Wildlife in the park includes insects, ocelots and howler monkeys. The reintroduction of birdlife has been particularly successful and it is a birdwatchers heaven.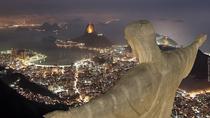 Denne fem timer lange turen tar deg til to av de mest populære attraksjonene i Rio de Janeiro. Besøk Sukkertoppen med taubanen som går helt til ... Mer informasjon
Sted: Rio de Janeiro, Brasil
Varighet: 5 timer
Språk:

Engelsk

Norsk