The gigantic Maracanã Stadium was built to open the 1950 World Cup. It holds the record for the largest attendance at a World cup final as 199,854 paying spectators crammed into the stadium and many more besides.
If you're after the intense Brazilian football experience complete with the drums, flares, and chanting, then get to a game; otherwise the sports museum inside the stadium with photographs, cups, and Pele's famous no. 10 jersey is a more sedate experience (enter at Gate 18).
Its official name is 'Mário Filho Stadium' but it's called 'Maracanã' after the small river that runs alongside. In the 1990s it was modified to become an all-seated stadium and now holds under 100,000.
The four main teams of the city play here and it will host the opening of the 2014 World Cup and the 2016 Summer Olympics Opening Ceremonies. It is being renovated for these events (scheduled to reopen in 2012) and will finally hold around 103,000 spectators.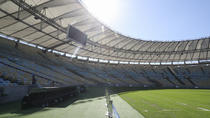 Maracanã er en attraksjon for hele familien og er noe helt spesielt for fotballelskere. Gjør deg klar for å utforske drømmenes univers med ... Mer informasjon
Sted: Rio de Janeiro, Brasil
Varighet: 40 til 60 minutter