Middle of the World Monument (La Mitad del Mundo)
Who could resist the opportunity to visit the Middle of the World (Mitad del Mundo) and have your picture taken as you straddle the equator! This complex, built to commemorate the site where a French explorer calculated the world's equatorial line, may be a shameless tourist mecca, but it makes for a fun day trip from Quito.
Take the elevator to the top of the enormous, trapezoidal monument for great views of the surrounding countryside. You'll also find a scale model of colonial-era Quito here too, which really helps you get a sense of the old town's layout.
You'll also find an Ethnography Museum and a Planetarium at Mitad del Mundo, as well as several tourist shops, bars and restaurants. On weekends, locals hang out in the Middle of the World, which comes alive with folk music and dance shows.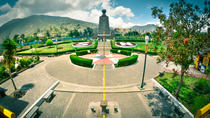 Mitad del Mundo er en attraksjonspark ved ekvator og er et av få steder i verden hvor du kan plassere én fot på hver halvkule. I Mitad del ... Mer informasjon
Sted: Quito, Ecuador
Varighet: Fleksibel
Se alle turer og billetter i Middle of the World Monument (La Mitad del Mundo)