Phi Phi Islands
Koh Phi Phi is a group of islands, but most of them are just limestone spires. The only ones of any size are Koh Phi Phi Don and Koh Phi Phi Ley. When you come to visit these heavenly islands, you'll be coming into the port on Koh Phi Phi Don.
After the infrastructure here was largely swept away by the 2004 tsunami, it was hoped that rebuilding could take place with more care for the environment and a swing upmarket. But the rush to get the tourist business back on track meant that the island - with all its rash of tourist businesses - remains much the same. Koh Phi Phi Ley has its share of over-touristing too - Maya Beach is where the film The Beach was shot, and it's regularly crowded and littered. Koh Phi Phi Ley is also famous for its bird's nests, which are used in soups.
Despite the islands' commercialization, they remain stunning little patches of paradise - all silken warm waters, limestone pillars and luminous underwater scenery.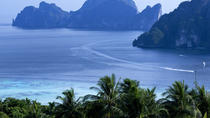 Seil til Phi Phi-øyene i Andamanhavet i en hurtigbåt og slapp av på hvite sandstrender under tropesolen. Snorkle i det turkise vannet og oppdag ... Mer informasjon
Sted: Phuket, Thailand
Varighet: 10 timer
Språk:

Engelsk