Lido Shows
No evening in Paris is complete without the spectacular theater of cabaret – sequins, feathers and Champagne!
For the most famous cabaret experience on Paris' Boulevard Champs-Elysees, head to the Lido de Paris, staging Las Vegas-style exotic revues for more than 60 years.
Lido popularized the dinner show concept, where French wine and cuisine combines with magical lighting, sumptuous costumes, theatrical sets and the Lido Orchestra to create the ultimate night out in the City of Light.
Over the years, stars such as Elton John, Elvis Presley, Edith Piaf and Marlene Dietrich have performed at the Lido. The current show running at the Lido is Bonheur, or "happiness." A celebration of beauty, Paris, fame, music and dance, the 90-minute revue tells the story of a girl's quest for happiness.
The theater is designed to ensure maximum visibility from your table while you dine, so you won't miss a minute of the Bluebell Girls and Lido Boy Dancers.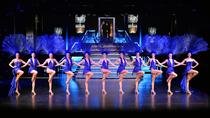 Unn deg en kveld på byen med glitrende glamorøs kabaret og en deilig treretters middag på den splitter nye forestillingen «Paris Merveilles» ® ... Mer informasjon
Sted: Paris, Frankrike
Varighet: Varierer