Centre Pompidou
The Centre Pompidou is a museum dedicated to European contemporary and modern art. Featuring a music hall with live performances, films, theatre, literature, spoken word, and visual art, the Centre Pompidou is one of the most culturally significant and visited attractions in Paris.
A brilliant piece of post-modern architecture, the Centre Pompidou was designed by the Italian architect Renzo Piano and the British designer Richard Rogers. The design of the museum has an 'open-approach' with all of its functional systems (plumbing, electrical, circulation, and climate control) visible and color coded from the outside.
Featuring the artwork of legends like Matisse, Duchamp, Jackson, and Picasso, the museum provides a thorough history of modern art. With the New Media Collection and Film Center, the Centre Pompidou also showcases the talents of Europe's fines installation, film, video, and sound artists.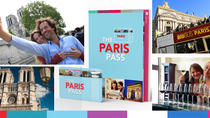 Oppdag hvor gøy det er å se severdighetene med Paris-passet, som gir deg gratis inngang til de beste attraksjonene Paris kan tilby. Du sparer tid ... Mer informasjon
Sted: Paris, Frankrike
Varighet: Fleksibelt
Språk:

Engelsk