USS Missouri
Known as Mighty Mo, or Big Mo, the battleship USS Missouri played an important role in history. Her deck hosted the signing of the Japanese surrender, ending World War II.
Moored in a guarding position a little away from the USS Arizona Memorial, the battleship was moved to Pearl Harbor in 1999. It is now a museum ship, allowing visitors to experience a taste of life at sea.
Take a 35-minute guided tour to walk in the footsteps of General MacArthur, or listen to an audio guide. Follow the self-guided walking routes, or take the controls on a Battle Stations tour.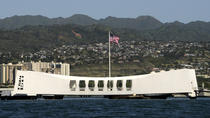 Denne historiske dagsturen til Oahu fra Big Island til Pearl Harbor Hawaii er en reise fra åstedet for det japanske angrepet på Pearl Harbor til ... Mer informasjon
Sted: Kona, Hawaii
Varighet: 14 timer
Språk:

Engelsk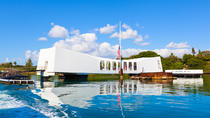 Ta en minneverdig Pearl Harbor-tur med billetter til USS Missouri og adgang til USS Arizona-minnesmerket, uten å stå i kø. Denne dagsturen ... Mer informasjon
Sted: Waikiki, Oahu
Varighet: 7 timer
Språk:

Engelsk