There are a variety of activities to partake in and the fascinating cave system with its geological wonders and fantastic creatures to explore.
Climb through the long galleries and lofty chambers to view stalactites formed over thousands of years by the constant dripping of water. The cave system itself is over two million years old.
A highlight of the caves is the glowworm grotto; illuminated by thousands of glowworms suspended from the cave ceiling, it is a magical place.
If you seek an adventure that plays with your senses and provides an unforgettable thrill then try abseiling (rappelling) into the awesome limestone tomb to experience the adrenaline rush as you clamber and scramble up through the black abyss and waterfalls in your pursuit of daylight.
Other tours offer the chance to float on an inner tube through the maze of underground rivers then rush through a downhill river system to emerge in Waitomo forest.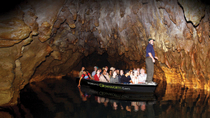 Se alle høydepunktene ved Waitomo Caves og Rotorua på én dag. Du får en guidet omvisning i Waitomo Caves for å se stalaktittene og ... Mer informasjon
Sted: Auckland, Ny-Zeeland
Varighet: 13 timer
Språk:

Engelsk