The most populous and second largest of New York's outer boroughs, Brooklyn refuses to be overshadowed by neighboring Manhattan and has a vibrant culture and identity.
Take a 30-minute saunter across the Gothic-style Brooklyn Bridge, with fabulous Lower Manhattan views from the wooden pedestrian walkway, and you'll find yourself in Cadman Plaza Park.
While you're here, order pizza at Grimaldi's in Old Fulton Street, take a look at the subway cars preserved at the New York Transit Museum, go for a stroll through the Carroll Gardens, and stop for a coffee in nearby Smith Street.
Take a look at the waterfront promenade and historic brownstone homes of Brooklyn Heights, or explore landscaped Prospect Park, the botanical gardens and Brooklyn Museum. And of course if it's sunny you'll want to walk the boardwalk at Coney Island.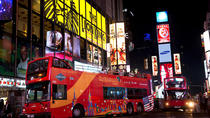 Se New York City stråle på en kveldstur med flotte utsikter i byen. Se Empire State Building, Times Square, Greenwich Village, SoHo, Chinatown, Lower ... Mer informasjon
Sted: New York City, New York
Varighet: 90 minutter