Art Deco Historic District
Miami Beach's Art Deco District is a historically important area located in the trendy South Beach neighborhood. It includes about 900 unique buildings and was designated a United States historic district in 1979. It was also the first 20th-century neighborhood to be recognized by the National Register of Historic Places, with most buildings constructed between 1923 and 1943.
Signature building elements in the district include sleek curves, liberal use of glass blocks, terrazzo floors, pastel exteriors and porthole windows and railings that are reminiscent of the ocean liners that docked in the area during that time. Ocean Drive is one of the most well-known streets in the area. Notable buildings include Casa Casaurina, a 1930s Spanish-style mansion that was once the home of Gianni Versace, and the 1937 Park Central Hotel, where Hollywood legends like Clark Cable and Rita Hayworth were noted regulars.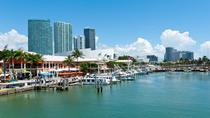 På denne turen får du virkelig oppleve den estetiske siden av den moderne og pulserende metropolen Miami. Blant de mange høydepunktene kan ... Mer informasjon
Sted: Miami, Florida
Varighet: Varierer
Språk:

Engelsk