Just north of Mexico City are the mysterious Teotihuacán Pyramids, built beginning around 300 BC as the centerpiece of an enormous city, often compared to ancient Rome. They were inexplicably abandoned centuries before the arrival of the Aztecs, who called the ancient architectural marvel the "Birthplace of the Gods."
Neither they, nor modern archaeologists, have been able to unravel the secrets of these massive ruins, presided over by the third-largest pyramid in the world. Constructed according to precise astronomical measurements, and filled with the bodies of sacrificial victims, it was perhaps a place where bloody rituals were performed to keep the end of the world at bay. But no one really knows.
Thus, this mystic spot is one of the most enigmatic, as well as impressive, archaeological sites in North America. Its vast stone expanse of humbling temples are still covered with rich and detailed stone statues, even faded paintings.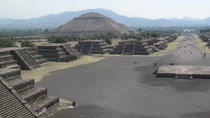 Besøk det arkeologiske funnstedet Teotihuacán og opplev "gudenes by". På den guidede heldagsturen vil det bli lagt særlig vekt ... Mer informasjon
Sted: Mexico by, Mexico
Varighet: 11 timer
Språk:

Engelsk