Enjoy a quintessential Australian wildlife experience – in the dark – by taking a nocturnal tour at Moonlit Sanctuary Conservation Park. Revealing mysterious nocturnal creatures that visitors seldom see, the eco-conscious crew at the Moonlit Sanctuary Conservation Park offer both day and night viewing sessions.
Your wildlife encounter may include patting koalas, feeding wallabies and watching for dingos and snakes by day, before searching for quolls, owls and sugar gliders in the moonlight.
Sprawled across 10 hectares of bushland at the top of the picturesque Mornington Peninsula, the Moonlit Sanctuary Conservation Park is just outside of Melbourne and makes an easy daytrip for groups, tourists and locals alike. Best of all, you can leave feeling like you've not only encountered Australian wildlife in natural environments, but also helped to support the conservation and education programs run by Moonlit Sanctuary.
Turer og billetter
Se alle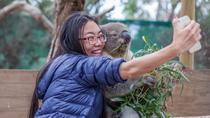 Melbournes prisbelønte dyrepark, Moonlit Sanctuary inviterer deg til å utforske 10 hektar buskland, møte truede arter, mate kenguruer og ... Mer informasjon
Sted: Pearcedale, Australia
Varighet: fleksibel
Se alle turer og billetter i Moonlit Sanctuary Conservation Park