Portobello Road and Market
Portobello market is world renowned for its antiques market with over 2,000 specialist dealers and vast crowds of bargain hunters, but the two-mile long sprawl includes a plethora of other goods. Vintage clothing, local designers and handcrafted accessories make up the fashion section of the market, with an array of unique and trend-setting pieces on offer, and plenty of incognito celebrities scouring the clothing racks. Hoards of eccentric retro memorabilia, one-of-a-kind furniture and second-hand household items, a wide range of bootlegged music and vinyl and a sprawling fruit and vegetable market, make up the rest of the stalls.
The street market is open six days a week but the Saturday market (which includes the main antiques market) is the most popular and crammed with vendors. There's plenty to keep you occupied when you've finished shopping too – a number of independent art galleries, vintage clothing boutiques, bars and chic cafés.
Turer og billetter
Se alle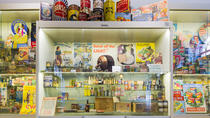 Like rundt hjørnet fra den verdensberømte Portobello Road, viser denne skattekonserten av forbrukerkultur utviklingen av husholdningsemballasje, ... Mer informasjon
Sted: London, Storbritannia
Varighet: 60 til 120 minutter