Lord's Cricket Ground
Lord's Cricket Ground is often described as the sport's spiritual headquarters, hosting national competitions and international test matches. Although legendary, the stadium doesn't have any royal relations as its name may suggest — it's named after Thomas Lord, a professional cricketer and the venue's founder.
Of course the best way to experience this site is by attending on of the regular matches as one of the 28,000 spectators the stadium can hold. But even without a live game underway, the Lord's Cricket Ground is worth a visit. The eight stands and media center circling the pitch all have distinctive features, the most notable being the Victorian Pavilion with its famous Long Room. It's so long, in fact, that cricket player David Steele supposedly once got lost on his walk from the dressing room to the cricket field and ended up in the basement toilets.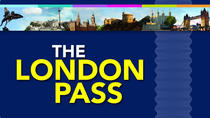 Opplev gledene ved sightseeing med London Pass, og få gratis adgang til over 70 attraksjoner i verdensklasse, for eksempel Westminster Abbey, The Shard og ... Mer informasjon
Sted: London, Storbritannia
Varighet: Fleksibel
Språk:

Engelsk