Hard Rock Cafe London
This popular global cafe chain got its start in London in 1971, where Eric Clapton's Lead II Fender now sits as the first ever piece of memorabilia donated to the Hard Rock Café. This particular café now contains an incredibly extensive rock and roll collection, with the most valuable pieces housed in the café's museum, otherwise known as the Vault. Hard Rock staff members provide free tours of the Vault, which contains items from Jimi Hendrix, The Who and the Beatles, among others.
In addition to the music memorabilia and rock and roll ambience, there is traditional dining here with American food, a shop to explore and occasional live shows.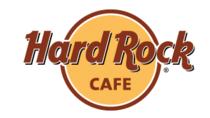 Bestill middagen på Londons Hard Rock Cafe i forveien og gå forbi køen. Ikke bruk ferietiden på å stå i kø! Mer informasjon
Sted: London, Storbritannia
Varighet: 2 timer