Oskar Schindler's Factory
Oskar Schindler was a wealthy German Nazi who employed hundreds of Jews in his Krakow enamel factory, which ultimately led to many saved lives. Schindler's part in all this is immortalized in the Steven Spielberg film Schindler's List.
Since June 2010, Schindler's old factory has housed a highly emotive, interactive and visually stunning permanent exhibition on the Nazi occupation of Krakow. The horrors of the regime are showcased, from the early days of uneasy truce between Poles and Germans to the ultimate mass genocide of Jews and Poles alike in concentration camps such as Auschwitz-Birkenau. The multimedia and intense 3-D diorama displays in the "Krakow Under Nazi Occupation 1939-1945" exhibit harshly bring to reality the repeated atrocities, the liquidation of 3,000 Jews from the Podgorzé ghetto in 1943 and the final days of the war.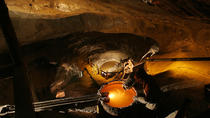 Utforske Kraków i en Melex el-bil og besøk den UNESCO-oppførte saltgruven i Wieliczka med denne Kraków Super Saver-turen som kombinerer to ... Mer informasjon
Sted: Krakow, Polen
Varighet: Varierer
Språk:

Engelsk