Hippodrome (At Meydani)
Originally built in the third century, the Hippodrome of Constantinople was the sporting and cultural center of the former Byzantine capital for over 1,000 years. With a U-shaped race track and two levels of spectator galleries, the Hippodrome likely held more than 100,000 people. While the Byzantine emperors (and later the Ottoman sultans) took great pride in the Hippodrome and devoted significant efforts to embellishing it, little remains of the original structure today.
Sultan Ahmet Square now covers the former site of the Hippodrome and largely follows its ground plan and dimensions. Pavement marks the course of the old race track and several interesting monuments remain as well. You can't miss the towering Obelisk of Theodosius, the oldest monument in all of Istanbul. Made of pink granite, it was originally erected at the Amun Re temple at Karnak in Egypt, but was brought to Istanbul by the Emperor Theodosius in the fourth century.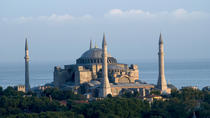 Besøk seks av Istanbuls mest populære attraksjoner på én dag på en heldagstur i byen! Det tettpakkede dagsprogrammet inkluderer en ... Mer informasjon
Sted: Istanbul, Tyrkia
Varighet: 8 timer
Språk:

Engelsk