The Cu Chi Tunnels are a network of underground passageways that run to more than 120 miles (200 kilometers) in total length in this area alone. Work by the Viet Cong commenced in 1948 as a means of shelter from the French air attacks during the Indochina conflict.
The network provided vital access and strategic control over the large rural area surrounding Ho Chi Minh City; over the following two decades the tunnels became a complex underground city including hospitals, defenses and living quarters. This meant despite all the bombings in the area many of the local people could still continue to live underground. In its prime and at its most impressive the Cu Chi Tunnels stretched from the southern Vietnamese capital all the way to the Cambodian border to the west, and in places was dug to 3 stories deep.
Much of the original tunnel system was destroyed in bombing raids during the 1970s but existing parts have been restored and opened.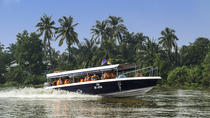 Far over Saigon-elven i en luksushurtigbåt til tunnelene i Cu Chi på en rundtur fra Ho Chi Minh-byen. Velg tidlig eller sen avreise om morgenen, og ... Mer informasjon
Sted: Ho Chi Minh-byen, Vietnam
Varighet: 5 timer