Genoa is associated, understandably, with the sea. It's Italy's largest port city, and it's home to the Genoa Aquarium – Italy's largest aquarium, and one of the largest in Europe.
The Aquarium of Genoa sits on the old harbor, the city's ancient port. When the area was redeveloped in the early 1990s to be less industrial and more appealing to visitors, the aquarium was part of that redevelopment project. The aquarium – along with the old port – was redesigned by famed architect Renzo Piano, himself from Genoa. It was opened in 1992, and today more than 1.2 million people visit every year.
The Genoa Aquarium has 70 different tanks for visitors to check out, holding more than 1.6 million gallons of water and 12,000 animals. This aquarium is the only one in Europe to have some species of Antarctic fish on display, and a 1998 expansion means there's now a whole wing devoted to marine mammals – there's space for up to 10 dolphins.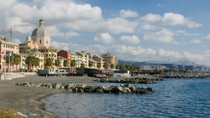 Utforsk Christofer Columbus' fødested, nyt den utsøkte maten og se flotte severdigheter med denne 48-timersbilletten til en dobbeltdekkerbuss med ... Mer informasjon
Sted: Genoa, Italia
Varighet: 48 timer
Språk:

Engelsk