This spectacular landscape of crashing waterfalls was once held sacred by the Guarani people, who called it Iguassu, or "Big Water." Straddling the border of Brazil and Argentina, Iguassu Falls is an incredible natural attraction of 275 waterfalls of various sizes, making it a UNESCO World Heritage Site and one of the Seven Wonders of the World.
Puerto Iguazu is the Argentina gateway - from here you can tour the Brazilian side, tour both sides and take other sightseeing tours to nearby attractions like the San Ignacio Mission or the Itaipu Dam on the Brazil-Paraguay border.
While Argentina, with 80% of the falls, has more trails and activities, the Brazilian side, with tours leaving from Foz do Iguacu, offers the finest views. Pedestrian walkways descend into the fierce rainbow-strewn mists of Fiorano Falls, and take in panoramic vistas over the massive flowing curtain of Rivadavia Falls, which cascades across a plateau.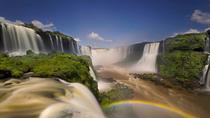 Iguaçufallene er et av naturens sju nye underverk. Fallene fikk denne tittelen 11. november 2011 etter en internasjonal konkurranse som ble sponset av New ... Mer informasjon
Sted: Foz do Iguaçu, Brasil
Varighet: 1–2 timer