It may not be the most spellbinding museum in town, but sentimentalists will love the Museum of Edinburgh, or Huntly House, just because it houses the collar and bowl of Greyfriars Bobby, that terrier symbol of devotion famous for sitting steadfastly on his master's grave.
Once you've paid your tribute to these relics, make your way through a series of restored 16th and 17th-century townhouses to trace the history of Edinburgh from its earliest days as a prehistoric settlement, to its Roman occupation and medieval crafts. If you're into the decorative arts - glass, ceramics, clocks and the like - you're in for a treat.
One of its most treasured artefacts is the National Covenant, a petition for religious freedom dating back to the 17th century; the museum also houses the original plans for the Georgian New Town, and the exhibitions run through to contemporary times.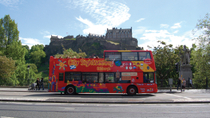 Denne City Sightseeing-turen er den absolutt beste måten å se Edinburgh på – du får flott utsikt fra toppen av bussen, strategisk ... Mer informasjon
Sted: Edinburgh, Storbritannia
Varighet: 1 dag
Språk:

Engelsk
Se alle turer og billetter i Museum of Edinburgh (Huntly House)