Kakadu National Park
Kakadu National Park has a feeling and a beauty unlike anywhere else on earth. With its sandstone escarpments looming up from the plain, its secret waterholes and lily-strewn waterways, its teeming birdlife and ancient rock art, it's a place that will get a hold on something old in your soul.
It's Australia's largest national park, clocking in at a mindboggling 1.7 million hectares (4.2 million acres). In that vast space shelters a staggering multiplicity of fauna, including dingos, wallabies and saltwater crocodiles. There's plants and animals here that are found nowhere else in the world, and a number of endangered species.
Make sure to take a cruise along one of the numerous park rivers - cruising along the Alligator River will allow to discover amazing birds and see crocs up close safely. Yellow Water near Cooina is a good starting point for sunrise cruises, usually the best time of the day for wildlife viewing.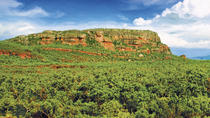 Opplev magien i Australias Kakadu National Park på denne heldagsturen fra Darwin. Ta båten på de berømte Yellow Waters, mens du ser etter ... Mer informasjon
Sted: Darwin, Australia
Varighet: 13 timer
Språk:

Engelsk