Fort Worth
Fort Worth is a smaller, more user-friendly neighbor to Dallas, proud of its cow-handling roots and Western heritage.
The Southwestern Stock Show and Rodeo is an annual event, held at the Will Rogers Memorial Center, and the Stockyards District has been transformed into a leisure and shopping precinct.
The Stockyards Museum gives the lowdown on the city's cow-town past, and friendly cowboys on horseback ride past to answer questions and perform a twice-daily drive of Texas longhorn cattle.
There's high culture in Fort Worth too, including the Modern Art Museum, galleries and Museum of Science & Nature in the city's Cultural District.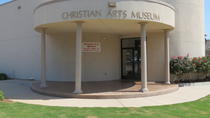 Besøk det kristne kunstmuseet i Fort Worth, hjem til en av verdens mest unike biter av moderne kristen kunst, livsstørrelsen av Leonardo da Vinci's ... Mer informasjon
Sted: Fort Worth, Texas
Varighet: fleksibel
Språk:

Engelsk