Plitvice Lakes National Park
A national park since 1949 and a World Heritage Site since 1979, Plitvice (prounounced pleet-wee-cheh) is still relatively new on the European tourist trail, but certainly not undiscovered. Set at the top of Croatia's Adriatic region in a karsted area of the Dinaric Alps, just two hours from the capital city of Zagreb, the park is visited by over 1.2 million people each year.
A sprawling limestone and dolomite chalk landscape of blue-green lakes, mossy caves, trickling streams and spectacular waterfalls, this geological wonder formed at the confluence of two rivers dates back as far as the Jurassic and Cretaceous periods. Most of the 16 lakes within the park are rimmed with curvilinear boardwalks that wend alongside the most scenic waterfall areas, allowing visitors to get a closer look at the craggy travertine formations created by the constant rushing of water over mineral-rich rocks. Humans are not allowed to enter the clear, clean water here.
Turer og billetter
Se alle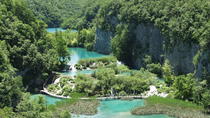 I millioner av år har vannet skåret seg gjennom travertin-bergarter som gjør dype innsjøer og fosser. Det er den mest kjente kroatiske ... Mer informasjon
Sted: Plitvička Jezera, Kroatia
Varighet: 1 til 5 timer