Figueres is a modern city, though its quaint historic center and suitably elegant old Iglesia San Pedro certainly make for a nice stroll. Urban explorers may enjoy a glimpse of modern Catalonia, unsullied by the niceties of the tourist trade. Most visitors, however, come away a bit less than impressed.
The vast majority of tourists come for the city's star attraction, the Salvador Dalí Museum and Theater (Castell de Pubol), conveniently located within walking distance of the train station and old town.
If you're one of those rare adventurers who enjoys a bit of reality on their vacation, you might want to use it as a base for exploring the picturesque region. Lodging and dining are relatively inexpensive, and you're a short busride away from area attractions including Cadaqués, Castello de Empúres and Empuriabrava, and Besalú.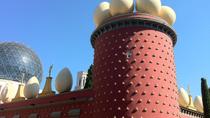 Oppdag middelalderbyen Girona og byen Figueres, fødestedet til den spanske surrealisten Salvador Dalí, på denne delvis guidede turen fra ... Mer informasjon
Sted: Barcelona, Spania
Varighet: 11 timer 30 minutter
Språk:

Engelsk