La Croisette Boulevard
La Croisette Boulevard, or Boulevard de la Croisette, is the heart of Cannes, with luxury hotels, designer shops, and glittering nightlife spots lining the way along the curving coast. On the other side of the boulevard reside Cannes famous sandy beaches. It extends completely along the spectacular Cannes coastline. The boulevard overlooks the impressive harbor which is home to extravagant yachts and a pirate ship built for a film.
The eastern section of the boulevard extends south at the lovely Parc de la Roseraie, curves along the Port Pierre Canto and ends at the southern tip of the Pointe de la Croisette near the Port du Palm beach. On the east side of the cape lies the charming Boulevard Eugène- Gazagnaire and its lovely beach, which extends north to the Port du Moure Rouge. The Croisette is the main drag of Cannes and features many of its major attractions.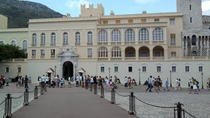 Monte Carlo: Få en kjøretur på den mest berømte Formel 1-banen. Prøv lykken på det berømte kasinoet i Monaco. Hvorfor ikke ... Mer informasjon
Sted: Nice, Frankrike
Varighet: Fleksibel
Språk:

Engelsk

Norsk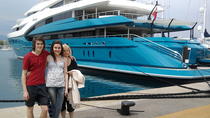 Se de vakreste stedene langs den franske riviera på denne private halvdagsturen til Antibes og Cannes fra Nice. Du reiser med en privat guide langs ... Mer informasjon
Sted: Nice, Frankrike
Varighet: 4 timer
Språk:

Engelsk

Norsk