Brisbane River
Brisbane is a city shaped by the river. It is a city of long walks in the summer dusk and riverside picnics on weekends. Bringing natural life to the urban scape, the Brisbane River is the site of many of Brisbane's best attractions, events and everyday joys.
Popular activities on the Brisbane River include kayaking through the city at night, exploring the river on a CityCat, taking a dining river cruise or catching a local ferry to reach the opposite shore. Climbing the Kangaroo Point Cliffs on the river's edge is a popular evening activity, and many residents and visitors alike enjoy climbing the famous Story Bridge, dining at South Bank by the water and relaxing with a drink at Eagle Street Pier.
You can also take a walk through the City Botanical Gardens that follow the northern river's edge, see a live show at the famous Riverstage, look across the urban night from a Gallery of Modern Art 'Up Late' event, or read by the river.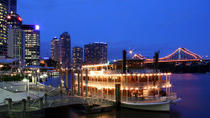 Se det beste av Brisbane fra vannet på et middagscruise om bord på en majestetisk hjulbåt i tre. Få levende underholdning, spis en moderne ... Mer informasjon
Sted: Brisbane, Australia
Varighet: 3 timer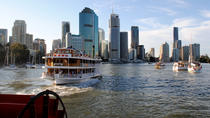 Flyt ned elven Brisbane om bord på en majestetisk hjuldamper, på et lunsjcruise med flott utsikt over elvebredden i Brisbane. Få uhindret utsikt ... Mer informasjon
Sted: Brisbane City, Australia
Varighet: 90 minutter
Språk:

Engelsk