Berlin TV Tower Restaurant
Berlin's TV Tower is one of the most iconic buildings in the city as well as in Germany. The viewing level offers 360 degree views of the city from 666 feet high. From the tower you can see the Spree River, the Reichstag Building, the Berlin Cathedral, Brandenburg Gate, Tempelhof Park, the main train station, Potsdam Square, Museum Island, and many other famous and not-so-famous landmarks in the city. There are signs that let you know what you're looking at as well as some of the historical and present day information.
The TV Tower Restaurant sits at 679 feet high offering spectacular views of the city along with a special meal. The restaurant revolves so you will get to see the whole city without having to leave your table. One rotation takes about an hour. The menu includes local Berlin and German dishes as well as international cuisine, and you can dine in the restaurant for breakfast, lunch, or dinner. There is live piano music in the evenings starting at 7pm.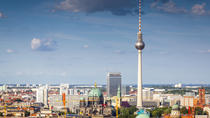 La deg forbløffe av den spektakulære utsikten over Berlin mens du nyter en lunsj i den høyeste bygningen i byen. Gå utenom køene til ... Mer informasjon
Sted: Berlin, Tyskland
Varighet: Varierer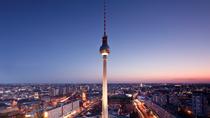 Hvis du ønsker deg en uforglemmelig opplevelse i Berlin, bør du unne deg en VIP-middag på svimlende 207 meter i en roterende restaurant! Berlins ... Mer informasjon
Sted: Berlin, Tyskland
Varighet: Varierer