Ming Tombs (Ming Shisan Ling)
The Ming Dynasty Tombs, or Ming Shisan Ling, are located outside of central Beijing and are home to the tombs and mausoleums of the Yongle Emperor. Currently, these tombs are a UNESCO World Heritage site, and are listed as part of the World Heritage object, Imperial Tombs of the Ming and Qing Dynasties.
The Emperor, who built the Forbidden City, also chose the site for these Ming Tombs mausoleums according to the art of Feng Shui. Back in the Ming era, this secluded valley north of Beijing was closed to visitors and heavily guarded. The ground was considered so sacred that not even an emperor could ride a horse there. Three tombs are open to the public; only one, the Dingling, has been excavated (sadly, with artifacts being badly damaged). The other two tombs are more atmospheric. The highlight of the experience is probably the Spirit Way, the long approach to the mausoleums.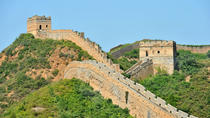 Bli med på en uforglemmelig guidet dagstur fra Beijing til to av Kinas mest populære attraksjoner: den kinesiske mur og Ming-dynastiets graver, som ... Mer informasjon
Sted: Beijing, Kina
Varighet: 8 timer
Språk:

Engelsk