Juno Beach Center
As even those with a passing knowledge of WWII knows, there were several countries involved in the events of D-Day along the coast of Normandy. And as such, the WWII battle sites, memorials, and cemeteries honor each of the Allies' efforts, struggles, and successes in their own way.
The Juno Beach Center is Normandy's only Canadian museum, and as such is focused on the heroism displayed by the Canadian military and civilians alike. It's located in Courseulles-sur-Mer, roughly a half-hour from the popular tourist base of Bayeux. Note that it is closed for the month of January.
Its maple leaf-inspired architecture is entered after passing by a stirring memorial positioned at the location of an original German bunker. Inside, the permanent exhibit takes visitors through the events of D-Day, the Canadian role, how Canada came into the war to begin with, and great information about the Canada of yesterday and today.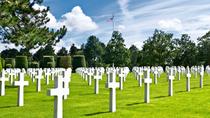 Ta en gripende og minnerik dagstur fra Paris for å besøke slagmarkene og strendene i Normandie. Du kan besøke berømte slagsteder og den ... Mer informasjon
Sted: Paris, Frankrike
Varighet: 14 timer
Språk:

Engelsk