Golden Mount (Wat Saket)
The Golden Mount - or Wat Saket - was constructed by King Rama I shortly after the founding of Bangkok. Built just outside the original city walls and intended as a burial site, the mount has many thousands of bodies interned here - most of them dating from Rama II's rule when plague swept through the city.
Built on swampy ground, the hill was rebuilt by Rama III who added a chedi (stupa) which promptly collapsed due to the shifting foundations. Rama V built the golden chedi we see today on the rubble of the previous chedi. The golden chedi is rumored to contain some of Buddha's remains – including his teeth. Concrete walls were constructed during World War II to ensure the structure remains stable. The Golden Mount looks its best at night when it glows gold against the dark sky. It is worth visiting in the daytime too for fantastic views across the city.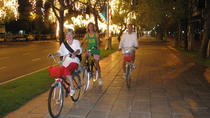 Utforsk Bangkok fra sykkelsetet på denne 2,5 timer lange kveldsturen som tar deg med til de største monumentene, templene og bygningene, alle opplyst ... Mer informasjon
Sted: Bangkok, Thailand
Varighet: 3 timer
Språk:

Engelsk

Norsk