Museum of Transport and Technology
For some Auckland travelers, the best part of the city is walking by the waterfront and perusing the rows of sailboats. For others, the best part of Auckland is touring the islands or heading out west to the coast. For aviation and locomotive enthusiasts, the best part of Auckland is without a doubt the Museum of Transport and Technology.
Located in West Springs about ten minutes from the city center, the museum has been showcasing modes of transport since its opening in 1964. Everything from exhibits on trolleybuses and airplanes is on display at the massive museum, and there is also a focus on science and engineering that showcases changes in technology.
Climb aboard a railway carriage as if exploring during the 19th century, or walk beneath the wings of a WWII bomber that flew missions over the Pacific. The museum is separated into two separate buildings, and there is fittingly a tram which shuttles visitors between the two different parts of the museum.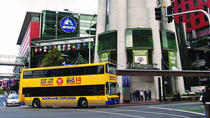 Oppdag den pulserende byen Auckland på en fleksibel og enkel måte på en hopp-på-hopp-av-buss som går til alle de viktige ... Mer informasjon
Sted: Auckland, Ny-Zeeland
Varighet: Varierer
Språk:

Engelsk
Se alle turer og billetter i Museum of Transport and Technology