Santa Catalina Monastery (Monasterio de Santa Catalina)
Inaugurated on October 2, 1580, 40 years after the city was founded, the Monastery of Saint Catherine has grown to become a city in itself. In fact, its over 215,285-foot-square design resembles the original city streets of Arequipa. Arequipa is often called the "White City" due to the fact that many of the buildings are made of volcanic white sillar, and this structure is no exception. It's also made of ashlar, or petrified volcanic ash, coming from Volcan Chachani which overlooks Arequipa.
Visitors are able to explore the monastery on their own, wandering through narrow streets, ambient courtyards, peaceful plazas and ancient churches. Along with the historical churches and chapels, check out some of the cloisters. There is the Main Cloister, the largest in the monastery with paintings and confessionals, and the Cloister of the Oranges, which features three beautiful crosses residing amongst vibrant orange trees.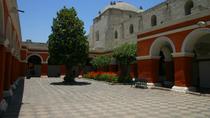 Monasterio de Santa Catalina de Siena i Arequipa regnes som en av de viktigste og mest originale arkitektoniske byggverkene i Peru og Latin-Amerika, med over ... Mer informasjon
Sted: Arequipa, Peru
Varighet: 2 timer
Se alle turer og billetter i Santa Catalina Monastery (Monasterio de Santa Catalina)